FC Goa entererd the semi final of the 2018-19 Indian Super League (ISL) with a 1-0 victory over last season's champions Chennaiyin at the JLN Stadium in Fatorda on Thursday.The game was special for RMS because Saviour Gama, an ex student of the SSC Batch of 2013,made his debut for FC Goa in that game.
Saviour was a super football player from his school days. Given below is an excerpt from a long forgotten June 2011 issue of the RMS Times .It describes Saviour's heriocs during the Joffre Paes Inter class football tournament. He was in class 9B that year -and his class won the coveted cup that year – thanks largely to his contributions in the semi finals and finals .
SAVIOR SAVES THE DAY
( From RMS Times June 2011)
In the tense semi final game between 9B and 9C the score was 2 – 0 in favour of 9C and there were only 5 minutes left to play.9C had already collected two yellow cards because they had used some seriously tough play to keep 9B at bay.
And the end was in sight.
And they thought they had won the game.
And they thought that they would have to play 10B in the finals and that 9B would have to go home and try again next year.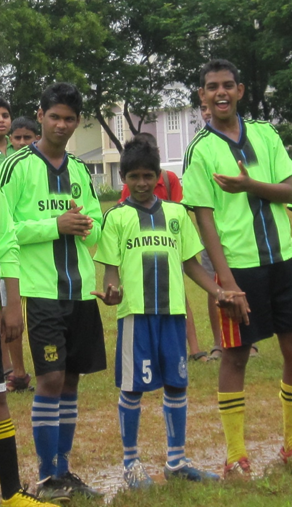 Saviour Gama however had other ideas. He packs a lot of football talent into a very small body. As you can see he is approximately half the size of most of the other players of his team.
He had been running around the field like a tireless little football playing machine for the whole game. The gathered spectators were then given the rare privilege of seeing a really good football player saving his team from certain defeat by scoring two goals in the last 5 minutes.
His outstanding solo effort caused the game to end in a draw and also caused the defending champions 10B to be eliminated from the competition.Due to SSC exam tension and other miscellaneous reasons they had really not been able to reproduce the form they had last year.
Thus 9C,even though they ended up losing,also entered the finals because they had a better goal difference than 10 B.
SAVIOUR SAVES THE DAY AGAIN
The final between 9C and 9B was a very very dirty game.This was not because the players played rough but because it rained so much that everyone (except Michael) was more or less completely covered with mud by the end of the first half..The ball was slithering and sliding and stopping and hard to control or direct.And the game ended in a draw yet again.And it went to penalties.At the end of 5 penalties the scores were still tied.Three players from both teams missed their shots and two players from each team scored.
The score was tied at 3:3
Several 9B supporters had to be sent to SMRC for first aid at this stage because of tension,high blood pressure and chest pain.
9C took the next shot.
And missed.
No prizes for guessing who took the last shot for 9B and scored.
Yes Saviour saved the day again.After he scored the goal he lay on the ground and the rest of 9B jumped on top of him.It was a miracle that he was not completely flattened.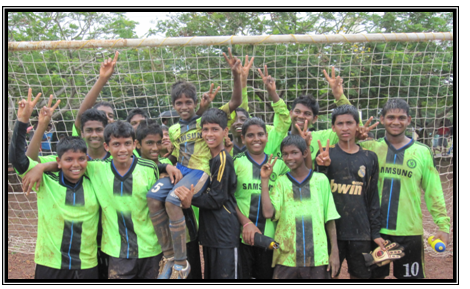 The best team won."
Everyone at RMS wishes Saviour all the very best .Congratulations .You were always awesome and you are a fine example to all young people to follow and to never give up on their dreams.
(Story sent in thanks to contributions from Ms Linda and Sir Allan )