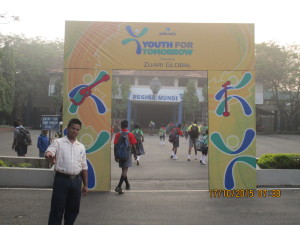 The Adventz Group, a conglomerate of 25 companies are having a youth festival for the school students of Goa, in an endeavour to provide a platform to young talent."The festival is titled 'Youth For Tomorrow'.
Two categories of competitions- Elocution and Solo Singing were first to be held at the school level for students of classes 8,9 and 10 and the winners would go on to the inter school level.Some more details on the event can be read here.
RMS was one of the schools selected for the program and the school round was held on saturday 17th October.
Sherwyn Correia won the Elocution competition and Myron Lucas won the singing competition.
Photographs of the event are by Varun Shilesh of 10 A