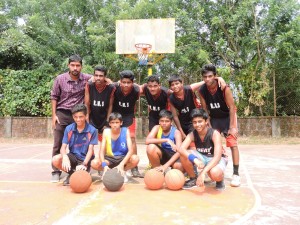 The Annual Taluka Level Basketball Tournament was held on the RMS basketball court earlier today.The good news is that our team won the first game against Airways Public School 21 – 0 .
The bad news is that we didn't do so well against Navy Children's School in the second game.
They beat us 16 – 13.
One three pointer would have drawn us level but it was not to be.NCS go on as Taluka champs to the next level of games and the RMS team has to try another day.As this is the only inter school basketball tournament in the year it's quite disappointing for the team.
More pics of the action below…..
Thanks to Tyrel Nunes for the photographs