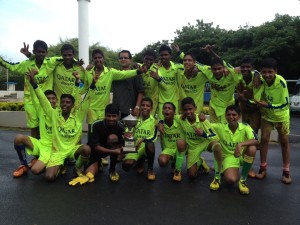 The curtain has come down at last on this most exciting event of the the School Year.
The finals of the Joffre Cup were finally played between last years winners (class 10B ) and class 9A today.
History repeats itself and and it did so again.
Last year the finals ended with a penalty shootout and the same thing happened again.
Last year the junior class beat the senior class in the penalty shootout and the same thing happened again.
9A emerged triumphant winners by beating 10B in the penalty shootout.
10B alas missed two of their kicks.
9A's goalkeeper Royce is probably the happiest boy in school at the moment.It's not easy being goalkeeper at a penalty shootout.
Further details and more photographs will be put up eventually hopefully.It seems that the two official photographers of the tournament -Lionel and Varun – somehow managed to forget their cameras at home for the finals.The fact that they are both from 10A has probably got nothing to do with the sudden attack of amnesia that they both suffered from.
Class 10 were defeated by class 9 in the girls tournament as well.
Class 9B ,captained by Meedoulee Fernandes,thrashed Class 10B 3 – 0 to take the Girls Tournament Trophy.
The winning girls team…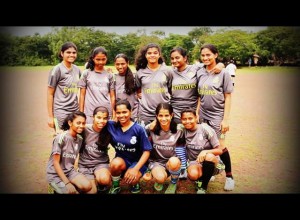 (Photograph provided by Anika D'mello)
And in the Middle School Section of the tournament 8A hit 8B for a six in the finals beating them 6 – 0