Photographs from the Annual Scout Guide camp for classes 9 and 10 at Nirmal Nature Campsite.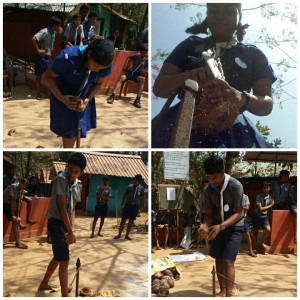 The scout and guide camp of Regina Mundi High school was at Nirmal Nature Park. This was the second year that our school had come to this campsite for our annual camp.
This year the scouts and guides went to the campsite by train instead of bus and that was one very enjoyable ride.
The first day was very eventful, with the highlight of the day being the cooking of delicious fried rice and sweet dishes. The campfire activity went well with the students showing their talent through skits and dances. The 2nd day was filled with pioneering activities and a second campfire which were also highly enjoyable.
Now the only thing left to do is study very hard for the board exams and hope that they will prove to be equally enjoyable..!
(Contributed by Karan Korgaonker)

(Photographs contributed by Xena,Vidhant,Sir Nagesh and Ms Linda )
And since we're on the subject of Scout and Guide Camps here's an old old filmit video of cooking practice for a camp many years ago.