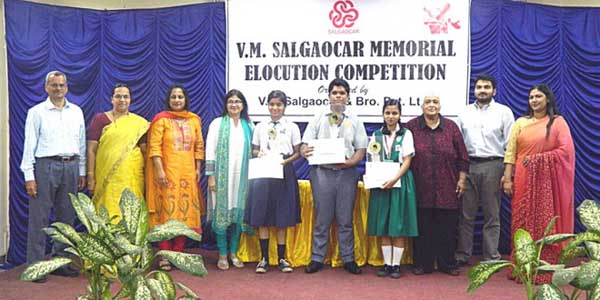 The Inter-School V. M. Salgaocar Memorial Elocution Competition is conducted every year by the V.M. Salgaocar Bros. Pvt. Ltd. in association with M.R. Pai Foundation and Forum of Free Enterprise – Mumbai.
The objective is to encourage school students to learn the art of public speaking, gain confidence and develop love for the spoken and written word.
The competition is held at  3 levels – an intra school level, an inter school zonal level and then the grand Inter School Finale . Regina Mundi School has been participating in this competition for the last two years but never went past the zonal level. This year we are very happy to declare that Sherwyn Correia of our school  took first place at the final round of the V M Salgaocar Memorial Elocution Competition 2015  which was held at V M Salgaocar College of Law, Miramar. There were 10 participants, 5 each from North and South zones.
A newspaper report on the event can be read here..
Congratulations Sherwyn on your outstanding achievement.