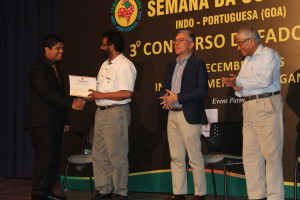 Sherwyn Correia of Class 10 A won the rolling trophy as best singer at the "Concurso de Fado" a few days ago.He also won the first prize as the best singer in the Under 18 category for the second year running.
The fado is a genre of Portuguese music that has been accorded "intangible cultural heritage" status by UNESCO in 2011. The Semana da Cultura Indo-Portuguesa (Goa) has been organising "Concurso de Fado" for the last three years. There are two categories, under-18 and above-18 years.He rendered the fado 'A Lenda de Fonte' (translated: The story of the spring). The Consul General of Portugal in Goa was the Chief Guest.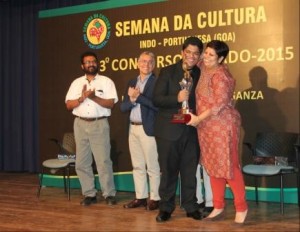 Mrs Neeta Brid GM Cidade de Goa gave away the rolling trophy.
In addition to his marvellous performance at the Concurso de Fado Sherwyn also reached the finals of the Adventz all goa elocution competition where he picked up the second runner up prize.
The competition was conducted in 16 schools from all over goa and about 250 students in all participated.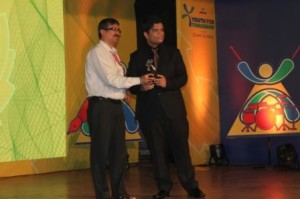 Congratulations Sherwyn.
At the end of the competition all participants gathered on stage to sing "We are the World"