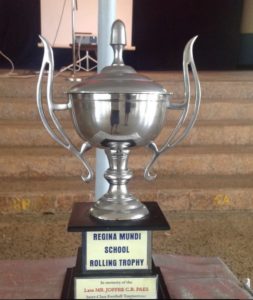 The most exciting and eventful month of the school year is August.There's the Joffre Paes Cup and the Edmund Rice week activities to look forward to.The first formative exams have thankfully ended and Joffre Cup 2016 is underway.
When reports last came in 10A and 10B had played out a 2 – 2 draw and 9B had beaten 9A 2 – 0.
10A are the defending champions and are hoping to make it two cups in a row.Wishing everyone all the best and may the best team win.
Some  early photographs have been sent thanks to Sir Nagesh.
And here's a look at a video of some action from an earlier tournament long gone by – Joffre Cup 2014..