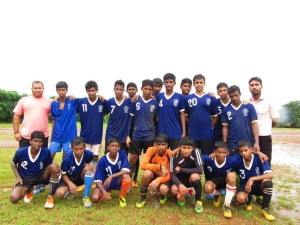 The RMS under 17 boys team lost the Taluka Level Final to OLPS Cortalim.
We had the advantage of the playing the game on our home ground but the Cortalim boys scored first – twice in fact – before Darren pulled one back for Regina Mundi
A couple of shots of the action have been provided by the photographic efforts of Lester …showing our boys in blue striving against the opposition.
Sir Allan said afterwards that football was all about taking chances and that we missed a few.
(Article contributed by Karan Korgaonker)